The Latest
The Artist Behind Our Holiday Collaboration ft ACID.FLWRS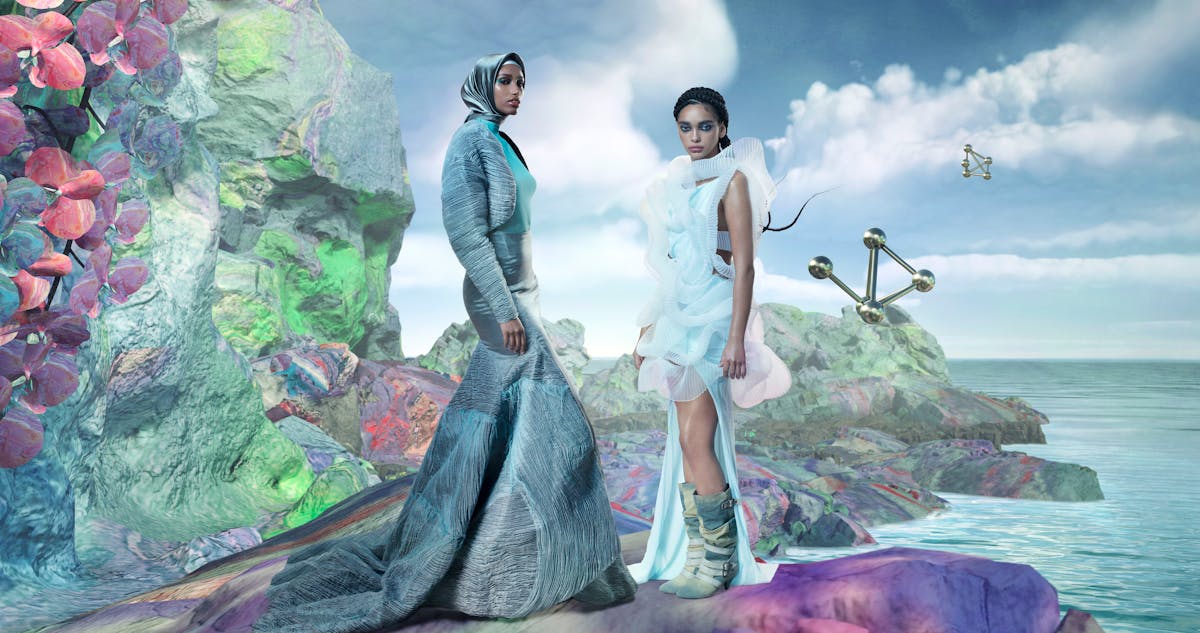 This year's limited-edition Holiday Collection, WRAP-TURE, was brought to life by a home-grown collaboration inspired by artistic expression; a collection which dares you to create unique living art through a kaleidoscope of hues for your own festive  fantasy.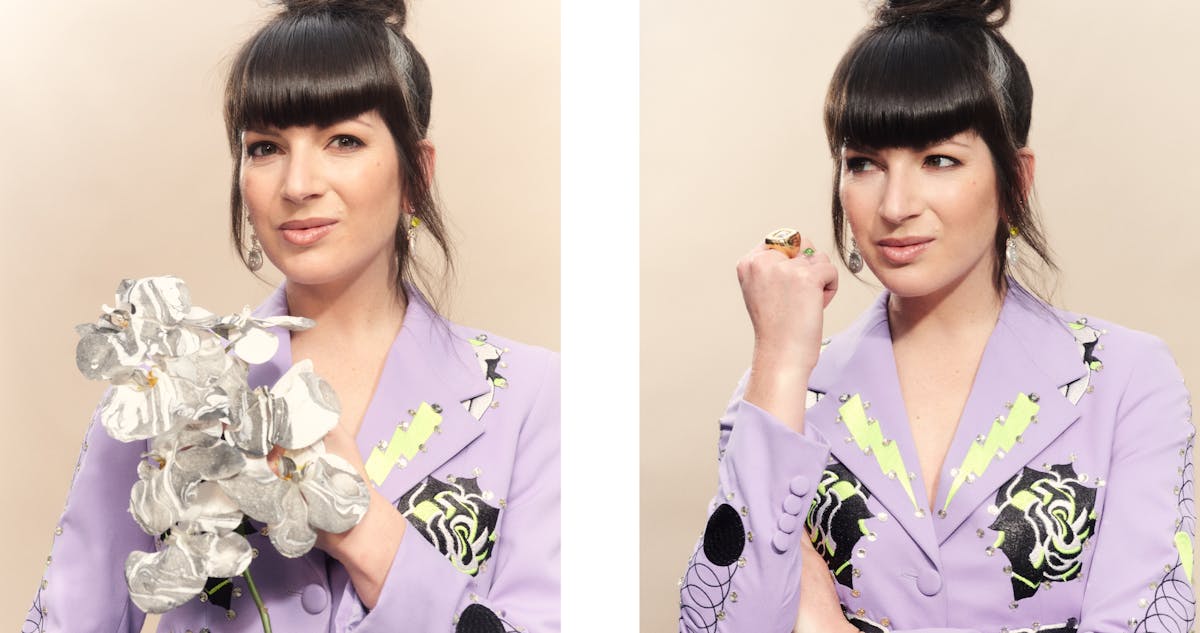 Created by Sydney-based artist, Claire Mueller, ACID.FLWRS, is a fine art floral studio, renowned for creating surreal hypercolour flowers beyond your wildest dreams.
A psychedelic concept in floral art, hypercolour patterns inspire a new perspective, bringing contemporary forms to life through a process based on a historical printmaking technique.
Defined by marbled patterns in unexpected colour palettes of neons and pastels, Acid.Flwrs became a futuristic take on classic forms in high contrast.
For Mueller and her ephemeral living art, she says 'I'm really interested in the perception shift of when one experiences something new. It's almost that glitch moment that blossoms within your imagination."
WHAT DOES WRAP-TURE MEAN TO YOU?
CM: "Wrap-ture for me is about that unexpected moment of wonder. When you're walking down the street and the light hits a building just right and you're transported to another world for a short, yet euphoric second."
HOW DOES THE USE OF COLOUR TRANSPORT ONE TO ANOTHER WORLD?
CM: "It's about keeping your eyes open to notice the magic in the pink clouds in the sky at sunset or when someone's shoes perfectly match the colour of a car that's driving past."
WHAT MAKES ACID.FLWRS SO UNIQUE?
CM: "Each Acid.Flwr is unique and celebrates individuality which I think is really congruent with creativity and beauty. Whatever your style, you can create and re-create whilst exploring beyond your wildest dreams."
WHAT IS IT ABOUT HYPERCOLOUR THAT INSPIRES YOU ART?
CM: 'I've always been a colour hunter, I'm really fascinated by colour resonance and combining tones that evoke a feeling or transport you somewhere. One of my favourite combinations is pastels paired with neons which I was so pleased we bought into the packaging for this year's Holiday Collection."
HOW DID THE CONCEPT FOR THE COLLECTION COME TOGETHER?
CM: 'We started the collection exploring milky pastels which felt like otherworldly liquids, and then added in bold high-octane contrasts. We ended up with a palette that's captivating yet feels like it doesn't quite exist in the real world. It's a virtual world of limitless beauty which in hindsight, is exactly what the beauty landscape consists of today. There are no bounds, it's beauty beyond your wildest dreams."
HOW DID THE COLLECTION & CAMPAIGN IMAGERY ALIGN WITH ACID.FLWRS DNA?
CM: "Acid.Flwrs exists in the surreal, so it made sense to set the campaign somewhere beyond the realms of the real world. We ended up creating a virtual world that provided a landscape where we could explore all those moments of wonder. We wanted to capture a sense of surrealism infatuated with colour, holographic shine and movement, all playing a part in creating a range of AF prints."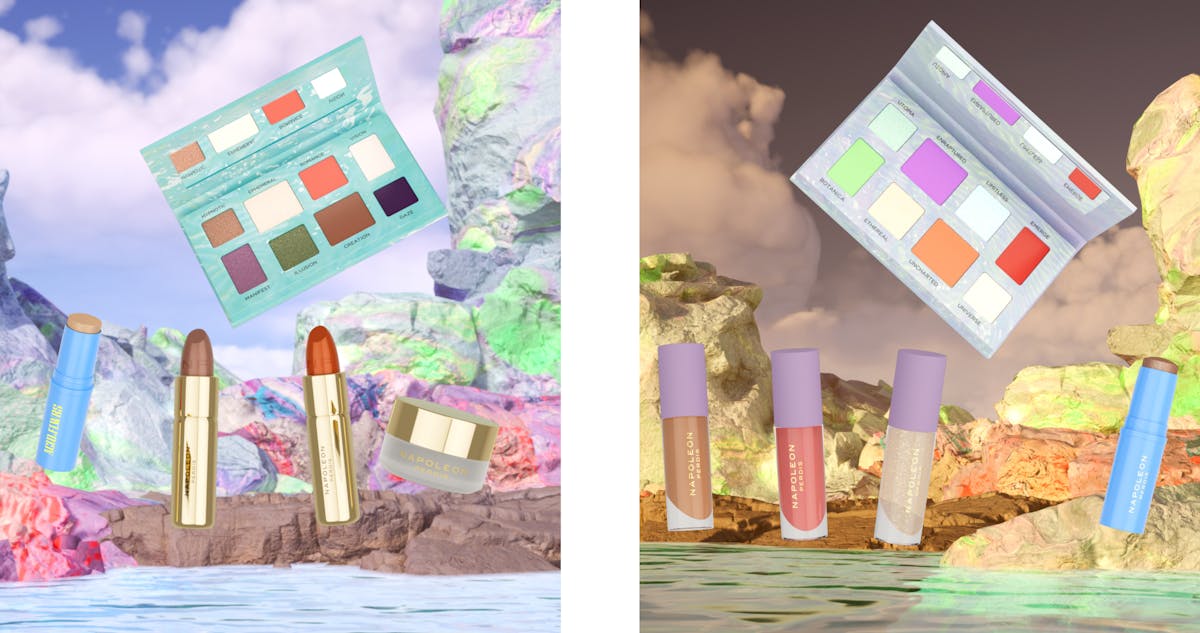 WHAT WAS YOUR REACTION WHEN YOU FIRST SAW THE COLLABORATION ONLINE AND IN-STORE?
CM: "It felt so surreal to see it on shelves all over Australia! I was beyond excited and so proud of what the team had achieved. The collection is absolutely stunning with something for everyone, no matter their style."
Discover our limited-edition Holiday Collection, WRAP-TURE. Now in-store and online.